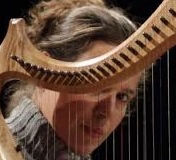 "I met Simon when I was 23, and he made for me my first triple harp...
Twenty years later, I'm still playing on his harps.
I have now three large triple harps, one small triple harp, and a gothic harp.
I never found in any other early harps the same warm and beautiful sound.
And these instruments are unbelievably reliable, and the tuning very stable.
As a teacher, I have always recommended Simon's harps for my students, and everyone is delighted with his instrument.
I have a total trust in his professionalism."